Breakfast in hotel @ 820 before we start our one-day tour around the beautiful island of Bali!
Ubud Art Village
The local tour guide come and picks us at 9am to the Ubud Art Village (about 1 hour journey from Kuta). Both of us fall asleep in the MPV.. too tired.
Our 1st stop for the day was a small Gold and silver smith at Celuk Village.  Silver has long been valued as a precious metal, and it is used to make nice jewellery.The owner there shared with us how the process of sterling silver jewellery goes.  I bought a nice earring for my dear (YC) which cost about Rph 180,000.
Next, we headed to the Art/Painting Collection Studio at Mas Village. We were very fascinated with their art piece there. We witnessed some of the locals drawing the pictures on some sort of clothing materials and put on the color on it. We browsed thru the studio but we didnt but anything there.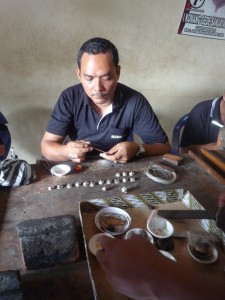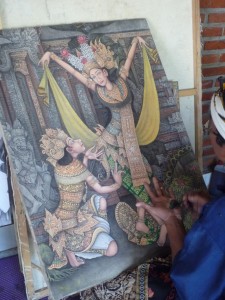 Tegalalang Terrace/ Toya Devasya
On our way to Toya Devasya, we have a chance to see the nice padi terrace at Tegalalang Village.
We headed to our next destination, Hot Spring @ Toya.  Toya is water in Balinese and Devasya is Holy in Sanskrit.  Both locations of Toya are by the water; on the hot spring of Toya Bungkah by Lake Batur within the caldera of Mount Batur stitched with Mount Abang in Kintamani. Toya Devasya offers a comprehensive package of spending a healthy body and mind holiday, to escape from your mundane tasks and routines, always inside the hands of Mother Nature.
As we enter, we saw locals and some tourists washing themselves with the Holy water in a pond. We didn't bring our swimsuit, so we can only feel the water with our hands. By that time, our stomachs were growling in hunger. We were served a local steamboat in the lake Side ( lunch included in the package).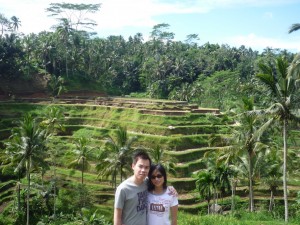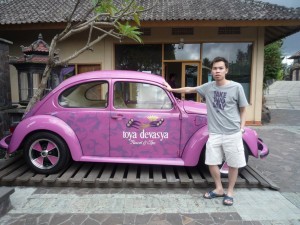 Kintamani Volcano @ Mount Batur
Next, we head to the viewing spot of Mount Kintamani! According to the tour guide, Mount Kintamani is still an active volcano. We were really glad that the weather was cooling on top and can witness the beautiful panorama of Batur Volcano and their lake.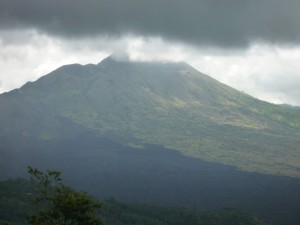 Ubud Central Market
Now, we were at lady shopping paradise @ pasar Ubud.  There were lot beautiful ole ole (souvenirs), price slightly cheaper than Legian Street. I buy some dresses for myself, my Chloe and YC. Hubby buys something for himself too. I realized my bargaining power not bad too XD
Galuh Bali Spa
After a tiring day travelling and busy bargaining, we were really looking forward to our booked spa package at Galuh Bali Spa.  It takes about 1 hour journey from Ubud Central market to Galuh Spa Center. We were paired in pairs in a room. Out spa treatment started with a foot waash and after that, it was oil massage and lastly body scrub. Hubby shared that the spa service was not very impressive. It costs is USD65/person.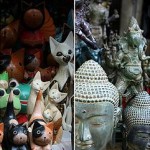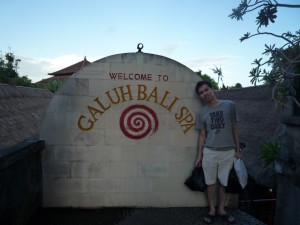 After a late night meal in hotel, we headed back to our room and rest….
[ratings]