Booked our ticket in December 2009 and planned for our Bali trip in March 2010. Unfortunately, due to some incident; we have to postpone our trip to 3rd June.  And.. in a blink of an eye, both of us were ready for our Bali trip !! Here we COME!
Reached LCCT about 730am, checked in our luggage and had breakfast in Starbucks. Flight from Malaysia to Denpasar (Bali) is about 2 and half hours.
Ngurah Rai Airport
Arrived at Ngurah Rai Airport about 1220pm. The airport is located in southern Bali, 13km from Denpasar town. Queued up for about 45 minutes to cleared the check point L
Our driver (forgoten his name XD) picked us up from the airport and sent us straight to Holiday Villa Hotel (Kuta Bali). We booked a deluxe room and breakfast (3 Days) and dinner (1 Day) included. I was embraced by traditional Balinese architectures blended with lush tropical gardens.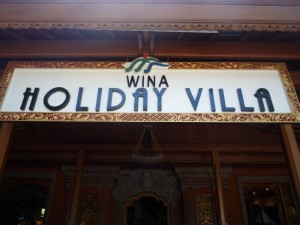 Holiday Villa Hotel, is just 2 minutes walk from the famed Kuta beach, and 3 minutes stroll from popular shopping district, Legian Street

Rosso Vivo  (means bright red)
After checked in, had lunch at restaurant called "Rosso Vivo" located at Jalan Pantai Kuta, front of Kuta seaview Cottage, 20 minutes walking distance. (Sweat walked under the hot sun). Rosso Vivo is dining restaurant selection of top Italian a la Carte menu, Set Menu, Traditional home mad pizza and also Buffer menu; designed in comfortable, cozy, romantic environment with beautiful kuta beach view. The lunch costs us Rph 430,000 (Rm150++). The serving of the food was huge portion, delicious!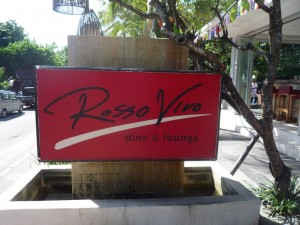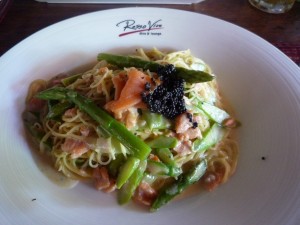 Next,  visiting to Uluwatu Cliff temple which is about 30 minutes from Kuta Bali. We paid Rph 400,000 for 2 persons. Uluwatu Temple located at the southern of the island, where you will find a temple balance on the cliff's edge with drop of 250ft. It is a beautiful place to see sunset. Before we are able to enter the temple, we are told to tie a cloth over our waist and for those pants are shorter than knee length. This is a sign of respect
A local guide was assigned to us to show the way inside the temple. As we walked along the temple, can see lot cunning monkeys  J The view over the temple was very beautiful ( see our lovely pictures taken on top of the cliffs)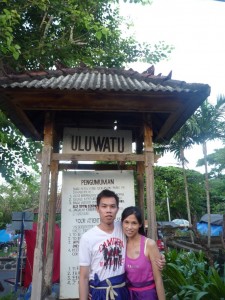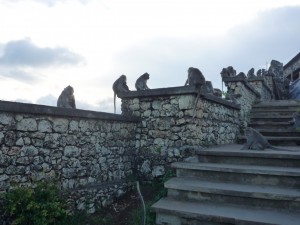 Started our journey for seafood dinner at Jimbaran. Hubby was starving. We were fascinated by the ambience of the place as the tables were set on the beach facing the sea. We started to place our dinner. We ordred package A (Rph 1,007,103 for 2 persons); The package includes 1 big bottle beer, 1 glass of wine, two fishes, squids, prawns, mussels, lobsters, crabs and vegetables (kangkung). My colleagues told me the seafood restaurants are very expensive but we felt it was quite reasonable as the food was pretty good and the portion was sufficient for two of us.   Can see there is char grilled corn-on-the cob from beach vendors and they have dancers on stage.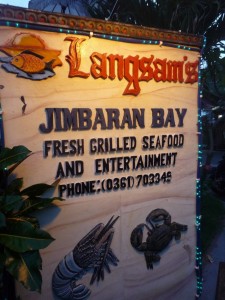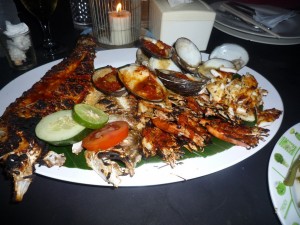 Walked around Jalan Legian and grabbed a glass of Starbuck Ice Blended Mocha (Rph 49,000) before we called it a night J
P/S: More pictures in FB
http://www.holidayvillakutabali.com/ (Rating -4/5)
http://www.rasabali.com/bali-property/rosso-vivo.html
[ratings]