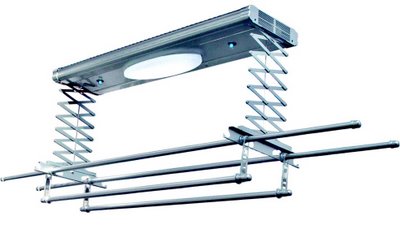 I found this cool intelligent remote control clothes hanger in the website. I thought it was cool because with just a touch of a button, you are able to lower it down to hang out your laundry and then raise it up afterward to save space and let it dry!
I am believed one of the headaches about moving into an apartment/condominium is how to maximize your space especially hanging your clothes in the balcony or yard (for me this is my headache:p)  This clothes hanger really seemed like God-sent the moment I read about it because it  able to dry our clothes properly in our utility/laundry room without taking up precious space!
If you look closely, you will notice 2 UV-light points at the roof of this gadget, which is suppose to take away the funky/damp odors from your laundry and kill any germs that might be breading as well.
To have an Orlant intelligent remote clothes hanger installed at home, you must first get your electrician to pull a new electrical point to the spot where you'd like it installed. Alternatively, you can also replace any of your light points (i.e: florescent light) in your room because this gadget also comes with a light of its own.
This cute thing cost RM1, 080. My Dear Hubby, what do you think?? :PPP
Visit: http://www.moresales.com.my/catalog/entry/fbnxgkga.shtml