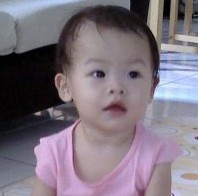 When i watched Chloe sleeps soundly in the middle of the night, I think what she would grow up to be. Thoughts of her when she is 30 or when she gets to my age bring up all kinds of questions. Will she be successful by then? How would she look like? What would her career be? What kind of family would she bring up? What kind of lady would she be? Would I be still around by then, watching over her? Taking care of her's kid? Would she still extend her arms when she needs a hug? Would I be able to see her get married?
Being a parent is certainly a heavy responsibility. The difficulty is not to provide the physical needs for them but the heaviest responsibility is to provide them a safe, peaceful, conducive environment for them to grow up. For me is a far greater and difficult challenge to provide the physical needs as I am imperfect.
When you just a little girl
I asked myself, what would you be?
Would you be pretty, would you be kind?
Then this thought came to me……………..